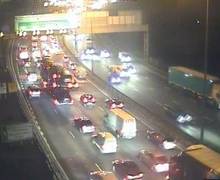 Motorists have been spared more M25 gridlock this morning after a section of the motorway near the Dartford Crossing re-opened.
Rush-hour commuters faced nightmare journeys home last night when a crash near the tolls caused an oil spill - and a 12-hour road closure.
Queues built into the evening back as far as junction four for Orpington on the anticlockwise carriageway.
The road, between junctions 31 and 30, re-opened at 2.30am today after the Highways Agency cleared the spillage and resurfaced the road.
Traffic is said to be flowing well this morning.
Two lorries had crashed near the entrance to the tunnels at about 2.30pm yesterday.
Traffic built as emergency crews worked to free one of the drivers from his cab.
Delays also built up on the A2 near the M25 turn-off into the rush-hour, around Dartford and Bluewater shopping centre.