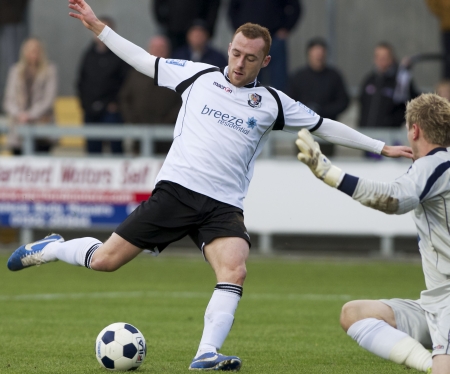 Dartford moved into the last 16 of the FA Trophy with a 3-0 win at home to Kent rivals Tonbridge on Saturday.
Harry Crawford put Darts in front when he punished slack defending in the sixth minute.
The hosts doubled their lead five minutes into the second half with Elliot Bradbrook scoring a penalty after Tom Davis fouled Crawford.
Jon Wallis found the top corner from 30 yards as Darts made sure of the win on 67 minutes.
Darts boss Tony Burman said: "I think it was a tricky tie, a local derby against a decent side but we handled it well."
"There is something at the end of the rainbow, two teams will get to the final at Wembley.
Tonbridge manager Tommy Warrilow said: "I can't complain. Dartford were the better side. We are disappointed to go out but are not going to throw away the season."