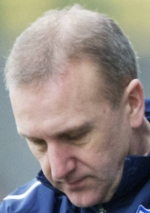 by Steve Tervet
Dartford manager Tony Burman admits FC Halifax Town represent an unknown quantity after his side were drawn away to the West Yorkshire club in the FA Trophy quarter-finals.
Saturday's 4-2 win over Bromley at Princes Park fired the Darts in the last-eight of the competition for the first time since the 1988-89 season.
Now, Burman's side must find a way past the in-form Blue Square Bet North outfit on January 26 if they are to reach the semi-finals for the fourth time in their history.
Burman, pictured, said: "We've been fortunate to have been drawn at home in a couple of rounds. We wanted to be at home again but that hasn't happened and now we've got a long trip to Halifax.
"I don't know too much about them. It's going to be a tough game. We've got to give everyone respect and we'll certainly do that with Halifax."
Having ended Maidstone United's FA Trophy run at the second-round stage, Halifax swept to a 3-0 win over Blue Square Bet South side Chelmsford City on Saturday.
Burman said: "They've beaten some teams local to us and we'll get them watched. We'll do our homework and we'll go there in a professional manner, with a good attitude.
"There are people we can ring for information but our scouts will watch Halifax. Our preparation will be right for the game and we won't take anything for granted.
"It'll be tough but we're pleased to be in the last eight."
Dartford return to league action on Tuesday when they host FA Cup giantkillers Macclesfield Town at Princes Park. Kick-off is at 7.45pm.