A Dartford backlash awaits Tonbridge Angels when the Kent rivals clash in the FA Trophy at Princes Park this weekend.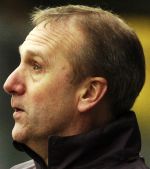 Three league defeats in eight days have hurt the Darts and manager Tony Burman expects a response from his players in the derby.
Burman (pictured) said: "We've had a bad week – we've lost three games on the trot. We'll work hard this week and get ourselves ready for the Tonbridge game.
"It'll be tough but we'll look forward to it and I can see a reaction coming."
As recently as 2008, Dartford played their football in the division below Tonbridge. Now, though, Burman knows his side represent a significant scalp in non-league's premier knockout competition.
He said: "We can forget about league positions. Tonbridge will come here and they'll want to cause an upset. That shows how far we've come in the last few years.
"We need to get back to winning ways. There are no points involved but at the end of it, someone in the non-league is going to be playing at Wembley. For me, there is no better prize."
Defender Mark Arber remains sidelined with a fractured jaw.