Dartford continue their gruelling schedule with a trip to Lincoln this weekend in a bid to end their three-month wait for an away win.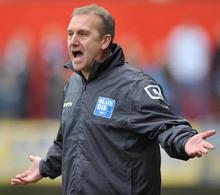 Life in Blue Square Bet Premier has been hard going recently for the Darts, who lost 5-0 at Mansfield on Saturday.
Last week, Dartford travelled 800 miles for two away fixtures and Lincoln represents another 300-mile round-trip.
With a home game against FA Cup giantkillers and title hopefuls Luton Town to follow on Tuesday, manager Tony Burman (pictured) admits life is not about to get any easier.
He said: "The schedule's tough because the games we're playing at the moment are tough games. It's relentless.
"Lincoln came to our place and they were 4-0 up by half-time. It's going to be a tough game but we need to start picking up points from somewhere.
"If you look at the games coming up, you think 'where are the points going to come from?'"