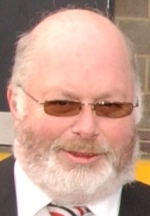 by Luke Cawdell
Dartford are expecting a bumper crowd for the Boxing Day clash with Ebbsfleet but chairman Dave Skinner is keen to keep it a family affair.
More than 3,000 fans are due to watch the Kent derby – with 2,000 tickets already sold a week before the match – and Mr Skinner, pictured, is reluctant to segregate the supporters.
He said: "We had 2,800 fans for the last meeting here between the clubs and everyone stood together. There wasn't a hint of trouble.
"There will be no segregation for away fans and, as we have said in discussions with the police, what's the point? It's the same as Liverpool versus Everton, where neighbours and family members may support different teams. How do you split them up?
"We have never had a problem before and the fans can come together."
Dartford have impressed this season despite having one of the smallest squads in the league, but Mr Skinner says there is money available for strengthening when the January transfer window opens.
"Tony Burman (Dartford manager) is currently under budget so there is a bit of leeway there to play with," said Mr Skinner.