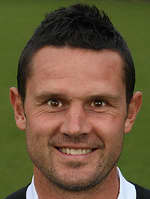 Dartford defender Mark Arber will be sidelined for up to six weeks after fracturing his jaw.
The 35-year-old (pictured) sustained the injury during Darts' 2-2 draw with Southport on Saturday.
Darts boss Tony Burman, whose search for new signings will end when the loan window closes on Thursday, said: "It's a massive blow. Mark's been tremendous since he came to us.
"He's fitted in so well and he's been excellent for us, not just matchdays but in training, too.
"It's a big loss and I'll have to try to get someone in to cover that area."