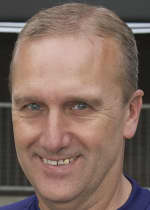 A home tie against Bromley was Dartford's reward for progressing to the third round of the FA Trophy.
The Darts got to the same stage last season, before being dumped out 1-0 by lower division Wealdstone.
"They are not good memories," said manager Tony Burman (pictured).
"We felt we should have gone further and we do keep reminding people about that. It's a reminder of what can happen if we don't do things right."
Blue Square Bet South Bromley made it through after knocking out Kidderminster by a 1-0 scoreline in the previous round, while Dartford defeated Tonbridge 3-0.
"To get a result really was excellent for Bromley," said Burman.
"I am absolutely delighted with the draw. When the draw is made you want to be at home and against someone local, and we've got both so that's great. I'm really looking forward to the game."
The sides will meet at Princes Park on Saturday, January 12, meaning the home Blue Square Bet Premier game against Macclesfield will be rearranged.