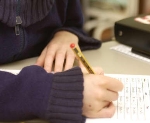 Dartford's schools have had a mixed bag when it comes to GCSE and A Level results.
Every single pupil at Dartford Grammar School for Girls achieved at least five A*-C grades, including Maths and English, in their GCSE exams last summer.
And the school ranked 11th in the county for its students' grades at A Level.
However, at Wilmington Enterprise College only 11 per cent of pupils made the expected grade at GCSE - down 17 per cent on results from 2008.
The struggling school, already marked as failing by Ofsted inspectors, also scored poorly at post-16 level, ranking the fourth worst in Kent.