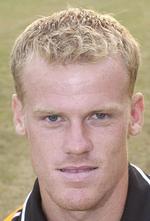 Dartford manager Tony Burman says experienced striker Allan Tait has signed for the Darts because he wants to start enjoying his football again.
The former Tottenham junior, who played for Folkestone Invicta, Crawley and Canvey Island before joining Eastbourne Borough last summer, made 26 appearances for the Blue Square Premier club but only scored two goals.
Burman, who tried to sign Tait (pictured right) before the transfer deadline in March, said, "When I spoke with Allan he made it clear that the reason he was prepared to drop down two divisions and come and play for us is because he wants to start enjoying his football again and, having had a look at our set-up, he feels he will do that with us.
"From my point of view, it was a breath of fresh air to deal with a player who wasn't just chasing the money but who wants a new challenge.
"And, with Allan, we are getting a very experienced player who, at 27, should be coming to his peak.
"I know he only scored two goals last season but if you look back over the whole of his career, his scoring record speaks for itself."
The Darts will open their pre-season campaign with a fixture against Norwich City at Princes Park on Saturday, July 11.
The fixture was agreed as part of the deal which took Cody McDonald to Carrow Road last season, and Burman added: "It's an attractive fixture for us to start our pre-season campaign and hopefully it will attract a decent gate."
Anyone interested in sponsoring the game should contact the club on 01322 299990.