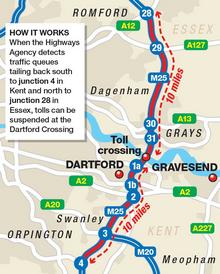 by Mary Graham
mgraham@thekmgroup.co.uk
How far do you think traffic should have to queue before the Dartford crossing tolls are suspended - three miles, five, eight..?
Try closer to 10 miles - and that's on both sides of the Thames.
Last week furore erupted at government plans to raise the fee for a single car journey from £1.50 to £2 this year and again to £2.50 in 2012.
Consultation on the proposed fees has opened and the government was keen to stress a new trial came into effect for six months from July 1, where the Highways Agency, which manages the crossing, is given the power to lift the tolls in severe congestion.
But it has now emerged just what severe congestion means - 9.3 miles in Kent and 11 miles on the Essex side of the crossing.
While any lifting of the tolls would be considered on a case-by-case basis, guidance given to the Highways Agency by the Department for Transport suggests there has to be – or likely to be – an emergency situation "where continuous queues extend back, or have the potential to extend back to junction 4 of the M25 [Orpington] or junction 28 [Romford], or beyond."
Any decision to suspend the Dartford tolls would be made by the Highways Agency's regional manager and regional operations director, based on guidance from staff at the crossing.
Dartford MP Gareth Johnson (Con) said: "Nearly 10 miles is too far, and I would urge liberal application of case-by-case basis.
"My position has not changed one jot in that I believe the tolls should be completely scrapped."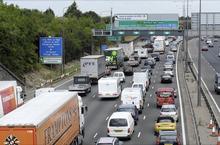 Cllr Jeremy Kite (Con), leader of Dartford council, said: "Ten miles is a colossal queue and almost worthy of national news level.
"What I want to see is someone within the Highways Agency with the complete authority to suspend the tolls by looking out of the window to see how bad conditions are."
On Friday evening large queues built up. One driver Sue Susans, said: "It looked like the barriers had lost power as the stop-start lights were not on and we thought they would be lifted.
"We were quite close to the barriers - only 20 cars back, but it took us 20 minutes to get through, so there must have been huge queues behind us."
A Highways Agency spokesman said there was no record of any power failure at the tolls.
The charges were last suspended in March when two riders came off their bike inside the tunnel. It was only the fifth time in as many years the tolls were lifted.
One of those times was in August when the Queen Elizabeth II Bridge was closed for more than three hours after a lorry caught fire and the Dartford tunnel was used for north and southbound traffic.
Cars reached junction 4 of the M25 on the Kent side, and junction 25 on the Essex side, something a Highways Agency spokesman described as "exceptionally long queues."
Cllr Matt Bryant, deputy labour leader of Dartford council said: "Ten miles is too much. What needs to happen now is a proper transport assessment looking at how many times there are jams and when, and whether another Thames crossing would really help.
"I urge everyone to make their views known during the consultation."
The consultation is open until September 23. See www.dft.gov.uk