Dartford manager Tony Burman was left to reflect on "a mad 10 minutes" after his side capitulated to lose 3-0 at Grimsby in the first leg of their FA Trophy semi-final.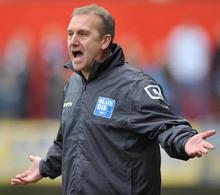 Goalkeeper Marcus Bettinelli was guilty of a horrible mistake when he dropped Craig Disley's soft shot over the line to hand the home side a 2-0 advantage, just five minutes from time.
Having worked so hard to nullify the Blue Square Bet Premier leaders in front of a vociferous Blundell Park crowd, several Dartford players sank to their knees in despair.
They were still reeling from the goal when Andy Cook punished sleepy defending to drive home Grimsby's third. The double-strike changed the complexion of the tie, with Dartford now needing to score at least three times in the second leg at Princes Park next weekend.
"I was disappointed with the result," Burman said. "I know we were 1-0 down but I felt we had control of the game in the second-half. We'd have taken a 1-0 to bring back home. It's the first leg of a semi-final and 1-0 would have been OK, but at 3-0 we've got a mountain to climb. It was just a mad 10 minutes.
"Marcus has been brilliant for us (since joining on loan from Fulham) but he's made a bit of a ricket, really. It's not even a hard shot, it's a soft shot and it's spun out of his hands and gone in. Outfield players can sometimes get away with mistakes but goalkeepers can't.
"All of a sudden, we're 2-0 down, and then we've lost it a little bit at the end. That's where part-time players and players who have not been playing at this level, it can happen to them.
"It's disappointing because I'm expecting the players to keep their composure, keep their discipline."
That ill-discipline saw Lee Noble shown a straight red card in stoppage-time for tangling with Grimsby left-back Aswad Thomas on the touchline.
The incident happened on the opposite side of the ground to the dugouts and Burman will view the match DVD before considering whether or not to appeal.
He said: "To get a guy sent off, he's made it look even worse, although I'm not too sure what he's sent him off for. I don't think the tackle was a sending-off, I think something's happened when they've come together on the floor. The linesman flagged the other way, so that's confused the issue."
The semi-final second leg will be played at Princes Park on Saturday, kicking-off at 3pm. Dartford have a full week to rest and prepare for the rematch but Grimsby must travel to Braintree Town on Tuesday night.
Do you think the Darts will be able to turn the tie around? Comment below.