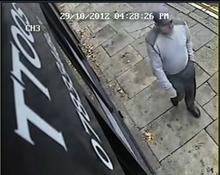 Police have released an image of a man they would like to speak to in connection with a distraction burglary in Dartford.
Officers were called on Monday, October 29 following reports that £2,000 cash and other documents including a passport, cheque book and pension book were allegedly stolen.
An 88-year-old man told police that at about 3pm he got off the 96 bus at West Hill on his way to the shops when he was approached by a man claiming he had been to the man's property and fitted a fireplace.
He told the pensioner he needed to do a follow-up call, but the victim didn't recognise him.
Finishing his shopping, the victim returned on the same bus home and upon arriving at his front door at about 4pm, the same man appeared asking to look at his fire.
He was let into the house and immediately told the owner he could smell gas. The owner explained that he didn't want any work done to his fire and offered the man £10 to leave.
The offender asked to use the toilet but is reported by the victim as seen coming out of the kitchen with something under his arm before leaving the house.
Detective Constable Louise Randall said: "This incident involved a vulnerable man in what appears to be a pre-planned crime. The offender is described as being white, about 40-years-old, with short fair hair and he was wearing a thick dark jumper at the time.'
Anyone with information is asked to contact DC Louise Randall on 101 quoting reference XY/32897/12.
You can also call Crimestoppers anonymously on 0800 555111.