A bumper Princes Park crowd watched England C knocked out of the International Challenge Trophy by a late Turkey goal on Tuesday night.
Galatasaray winger Aydin Yilmaz, one of three full internationals in the Turkey team, scored past Ebbsfleet keeper Preston Edwards with just three minutes remaining.
The semi-final looked to be heading for extra-time after England's non-league players had matched their top flight opponents on a noisy evening in Dartford.
Turkey's supporters were vocal from the first whistle and they even lit a flare on the terrace behind Edwards' goal during the first-half.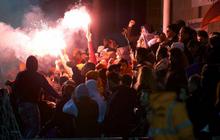 At that point, the visitors were on top. Edwards had to be on top form to deny Yilmaz, Murat Duruer and Cenk Tosun and the Fleet stopper was almost caught out when Soner Aydogdu shot just over from the halfway line.
Emre Colak, another Galatasaray man, played at Old Trafford in the Champions League earlier this season and the playmaker was peerless in the first-half.
However, his influence waned after the interval as England started to assert themselves.
Luton striker Andre Gray turned one shot wide and fired a second at goalkeeper Ertugrul Taskiran as the home crowd started to sense an opening goal could be on its way.
It needed a perfectly-timed challenge from Simon Ainge to deny substitute Serdar Gurler at the other end, before England missed a golden opportunity to book their place in the final.
Mansfield midfielder Lindon Meikle, the best outfield player on show, met another Gillies cross but lifted his shot over the crossbar.
That miss was punished when Turkey broke on 87 minutes. Ainge was off the field receiving treatment and the visitors exploited the space as Yilmaz ran in unchallenged to sweep the ball high beyond Edwards.
England: Edwards, Turley, Thomas, Ainge (Jackson 88mins), Wedgbury, Oshodi, Gillies, Forbes, Gray (Spencer 82mins), Davis (Jolley 89mins), Meikle. Subs not used: Mott, Jarvis.
Attendance: 3,212.