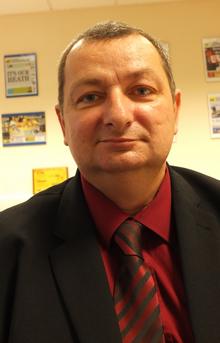 A former Leader of Swanley Town Council has been stripped of his Labour Party membership.
Cllr Robert Woodbridge returned to the council at a by-election just over a year ago, and was immediately appointed deputy leader of the Labour group.
But there has been a string of rows which led to a meeting at which he was unanimously suspended by his fellow Labour councillors.
The group leader, Cllr Mark Fittock, said this afternoon: "He has had the whip withdrawn from him for bringing the party into disrepute.
"I cannot mention why at the moment. It is an internal party matter. and it was with regret of course."
He added: "I cannot explain any more than that because it is likely to go to appeal."
Cllr Woodbridge was told of last week's decision in an email today.
It means that on the day of the annual budget meeting, the Labour opposition will be reduced by one member.
Cllr Woodbridge can still attend meetings but will only be recognised as an independent councillor. That in turn is likely to reduce the Labour group's ability to influence committee meetings and decisions, and could lead to him voting against the party.
Cllr Woodbridge said: "This was a kangaroo court. I was never told it was taking place, I therefore was unable to defend myself and now I find out I have lost the whip.
"This is all because I complained officially about Cllr Fittock. This is his answer.
"I cannot believe these events are taking place."