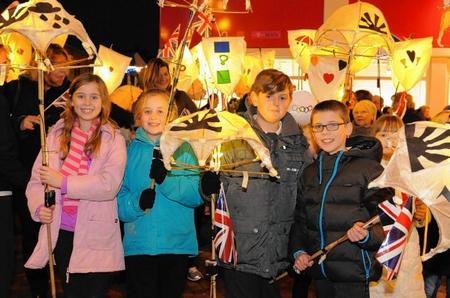 Dartford was brought to a standstill on Friday as about 500 people took part in the fourth Festival of Light.
Organised by the Kent Equality Cohesion Council, Cohesion Plus and Dartford council, the parade involved nine schools from the town along with their parents and members of the public.
The children, numbering about 400, made lanterns and torches which they carried in the parade.
The aim of the festival was to bring the communities of Dartford together through the arts, and was inspired by the Diamond Jubilee, the Olympics and the Paralympics.
Union Flags were given out during the parade and many waved them with pride as the children walked by with their lanterns.
The schools involved were Fleetdown juniors, Sedleys, Saint Anselms, Joydens Wood Junior, Temple Hill, Brent Primary, Sutton at Hone Primary, West Hill Primary and Oakfield Primary.
The parade also featured the Bloco Fogo Samba Group and the Four by Four Bhangra Dhol Drummers which started proceedings on the green outside Central Library.
It then went onto the High Street, before finishing at Bell Corner where the participants were met by the Mayor of Dartford Ann Allen and event organiser Gurvinder Sandher, the CEO of Kent Equality Cohesion Council.
For more on this and pictures from the event, see Thursday's Messenger.