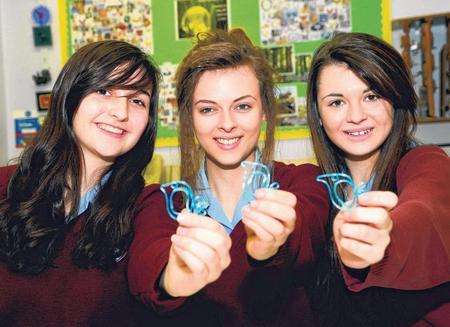 Three girls are flying high after reaching the national finals of a design competition.
Victoria Stringer-Woolston, Mary-Ann Stuart and Sophie Pearson are Year 11 pupils at Wilmington Grammar School for Girls in Parsons Lane, Wilmington, and came up with the idea of a bird bookmark for the Virtual Ventura competition, run by the Design Museum in London.
They are one of only five groups in Britain to make it to the finals in London on February 13.
The girls created a bookmark based on the Design Museum bird logo and soared through all four stages, from presenting their idea to the school back in September, to pitching to a panel of judges for the final.
Claire Johnston, the school's key stage 4 leader of design technology, said: "I'm so thrilled that all their hard work has paid off and that they're going to be recognised nationally.
"They obviously stood out with their design; it's not convoluted or complex which makes it more appealing to retailers."
The project challenges young people to create a well-designed, enterprising product for the Design Museum Shop, looking not only at design, but also branding, packaging, marketing, costing and pitching their products.
Products must cost less than £5 to make, to retail at £10.
Claire added: "It's really put Wilmington Grammar School on the map so I have to thank the girls for that as well."