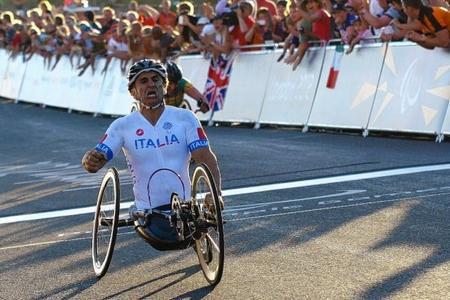 Alex Zanardi's gold medal heroics during the road cycling races at Brands Hatch have been voted the number one moment of the 2012 Paralympic Games by the International Paralympic Committee (IPC).
Zanardi secured two gold medals and one silver during the competition at Brands Hatch, and images of him raising his handcycle aloft in victory were beamed around the world to millions of viewers.
The gold medals also marked Zanardi's first victory at the Kent venue, having claimed podium finishes in his previous motorsport career at the circuit in Formula 3000 (1991) and World Touring Cars (2008).
The former-F1 driver was critically injured in a CART crash in Germany in 2001 which saw him lose both legs at the knee.
After making a recovery that defied medical logic, he returned to racing with prosthetic legs until 2009 when he announced he would be switching disciplines to handcycling with the intention of competing at the London 2012 Games.
Zanardi said: "Motorsport should be my speciality, not so much handcycling, but when they announced that handcycling was going to take place at Brands Hatch it was one of the crucial things that emotionally made me think 'yeah this is my place'.
"In reality you know that the tarmac you're covering is the same for every one of us but it felt certainly more special."