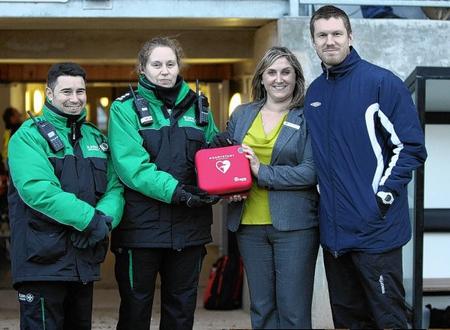 The home of Dartford FC is now an even safer place thanks to a donation from St John Ambulance.
The club has been given a defibrillator, also known as an AED, to keep at Princes Park.
It is an important piece of equipment that can save lives in the minutes after someone suffers a cardiac arrest or heart attack.
The machine shocks the heart back into action and can be operated by anyone, regardless of the level of their first aid knowledge.
St John Ambulance volunteers from the charity's Dartford unit are regularly at Princes Park matches, providing first aid, and were delighted to be given the opportunity to collect donations before pre-season games with West Ham and Arsenal last summer.
The collections raised £1,000 to buy three AEDs – two for use by the volunteers at other events, and one specifically for the football club.
Joanne Eade, a volunteer with St John Ambulance in Dartford, said: "The survival rate for someone in cardiac arrest increases by more than 50 per cent if an AED is used within the first four minutes, so immediate defibrillation could be the difference between a life lost and a life saved."
In 2012, Premier League footballer Fabrice Muamba had his life saved with an AED when he collapsed on the pitch at Tottenham's White Hart Lane when his Bolton team were playing Spurs in an FA Cup match.