A horse has been put down after she was dumped in Swanley with appalling injuries.
The animal was discovered collapsed next to a footpath in School Lane just after midnight yesterday.
RSPCA inspectors said the female horse - thought to have been about two-years-old - appears to have been dumped by her owner because of her injuries.
She was emaciated with hip bones, spine and ribs clearly visible. She had 15 open flesh wounds all over her body and a major wound on her right front leg.
Some of the injuries were so deep that the horse's bones were exposed. She also had a wound inside her mouth.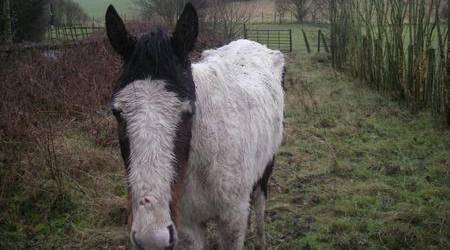 A Kent Fire and Rescue Service crew had to help the horse onto her feet and a vat was called.
She was taken to a specialist equine vet, who said the injuries were caused by irritation from rugs she had been covered with. Infection had set in and she was put to sleep on vet advice.
RSPCA inspector Rebecca London said: "The horse was very ill.
"I suspect someone dumped her there when they realised she was badly injured.
"The vet said she must have been sick for weeks."
Anyone with information about who dumped the horse is asked to phone 0300 123 8018 in confidence.