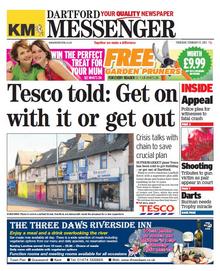 In your Dartford Messenger this week:
Tesco are told by Dartford council to get on with their plans for a superstore - or get out.
Tributes are paid to gun victim as pair appear in court.
In Sport, Darts boss Burman urges fans to become the team's 12th man as they try to come back from a three-goal deficit in this weekend's FA Trophy second-leg.
In What's On, you can win the perfect treat for your mum, and we have a free pair of garden pruners, worth £9.99, for every reader - just pay £2.70 P&P.
All in your Messenger, out today.