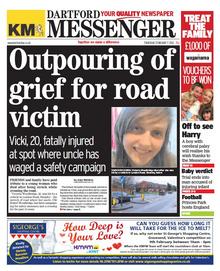 In your Dartford Messenger this week:
Friends and family pay tribute to a young woman who died after being hit by a car in Swanley. Vicki Woodbridge's uncle, Robert, had been campaigning for 10 years for safety measures on the same stretch of road.
In sport, we've pictures from the England match at Princes Park, Dartford.
In What's On - your free leisure guide - we've £1,000 of Wagamama vouchers to be won.
Don't miss the Messenger - out today.