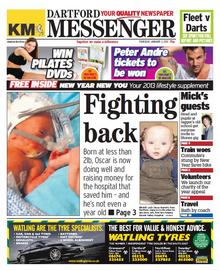 In your Dartford Messenger this week:
A baby, who was born weighing less than 2lb last March, is already raising money for the hospital that saved him.
Head teachers are to give their views on how to make the Kent Test fairer.
In our free leisure guide, What's On, you can win Peter Andre tickets and pilates DVDs.
Get off to a great start in 2013 with our New Year, New You supplement, which is packed full of ideas to put a spring in your step.
And in sport, we've a full report and pictures from the Fleet v Darts derby.
Pick up your copy today!