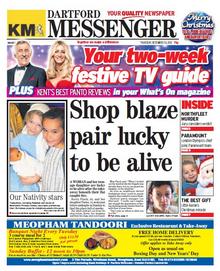 In your Dartford Messenger this week:
It's nearly Christmas and today, we've your bumper two-week festive TV guide, free in What's On. There's also reviews from pantos around the county.
In news, a mum and daughter have a lucky escape from a fire.
We've a school nativity picture special and the latest on the Paramount park plans for Swanscombe.
Don't miss your Dartford Messenger - out today.
We're out as usual next Thursday, Dec 27, with more festive pictures plus a look back at 2012. Don't forget to pick up your copy.