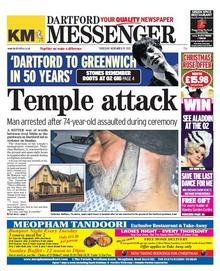 In your Dartford Messenger this week:
A man is arrested after a 74-year-old is assaulted during a ceremony at the gurdwara in Dartford.
Mick Jagger remembers his roots as the Rolling Stones play their 50th anniversary gig.
We've a picture special from the Festival of Light, which involved hundreds of schoolchildren from Dartford.
In What's On, we have a a Christmas Rose offer for every reader, and you can also win tickets to see Aladdin at the O2.
Pick up your copy today.