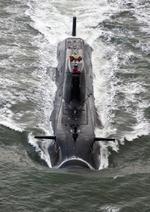 The inquest into the death a nuclear submarine officer murdered by a Dartford sailor is expected to take up to two weeks.
A spokesman for the Southampton and New Forest District Coroner said the inquest, which started yesterday is expected to end on January 16.
A number of witnesses and experts will be called to give evidence.
Able Seaman Ryan Donovan, of Hillside Road, Dartford, is serving a minimum of 25 years jail for the murder of Lt Commander Ian Molyneux,
36, shot aboard HMS Astute in Southampton Docks on April 8 2011.