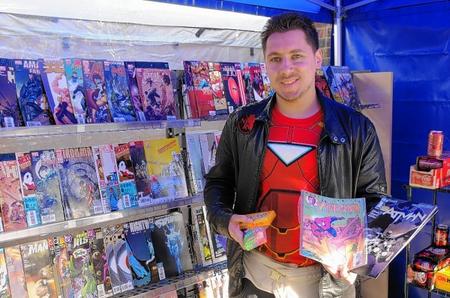 Super businessman James Cobley has brought American comic books back to the streets of Dartford.

It's been nearly seven years since Forbidden Planet comic and sci-fi store closed in the town, denying superhero fans the opportunity to pick up the latest adventures of Spiderman, The Avengers, The Hulk, Wolverine, Superman and Batman.

But now James, of Phoenix Place, has received the backing of Dartford council through its Portas Pilot scheme to run a market stall, beating off competition from other traders in the Market Apprentice competition.

James, 26, who's favourite adventures can be found within the pages of Marvel comics, said: "I used to work in the Forbidden Planet in the Priory Centre which closed down in 2006.

"I've always been into comics and started thinking that it was time to start my own business and get back to what I know.

"Running my own business is always something I've wanted to do and to work for myself."

James has received equipment to help him set up the stall, based in the Sainsbury's car park on a Thursday, Saturday and Sunday, as well as getting help with insurance and pitch fees.

The former Wilmington Hall School pupil added: "I think the nearest competition is in Bromley and I know a new comic shop just opened there, so if Bromley can support two, I think Dartford can support one, and people will travel for comics."

The stall is open Thursday, 8am-3.30pm; Saturday, 8am-5pm and Sunday, 10am-2pm.