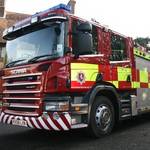 Two lorries were destroyed in a suspicious blaze last night.
The vehicles were parked up at industrial units in College Road, Hextable. Fire crews were called at 7.55pm. Experts believe it was arson.
One of the firemen on the scene said: "It was difficult to actually get to the blaze because of all the security measures around the site where the lorries were kept.
"By the time we'd got there, the fire was quite developed and it took us about an hour and a half to put it out."
One of the lorries was 80% damaged by the fire, the other less so, at 40%.
A spokesman for Kent Police said: "We were made aware of the incident at 8.15pm, by which time Kent Fire and Rescue Service were already on the scene.
"Police remained on the scene until 1.55am and investigations into what is believed to be arson are ongoing."
Anyone with information can call police on 101, quoting crime number YY/2063/13.