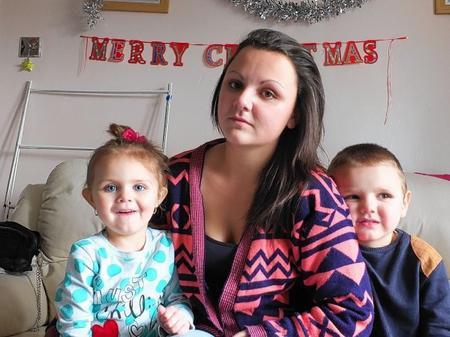 Two children and their mother have needed repeated emergency treatment for breathing difficulties because of extensive damp in their council maisonette.
Bonnielou, two, and Alfie-John Penfold, four, were taken several times over Christmas and New Year to Darent Valley Hospital with coughs and allergies.
The maisonette in Wiltshire Close, Dartford, has black mould, water streaming down the walls and a wet floor.
Mum Jodi Penfold, 21, first complained to the council in October and doctors have written letters saying the two-bed maisonette is uninhabitable.
The Messenger contacted Cllr Jeremy Kite (Con), leader of Dartford council, this week.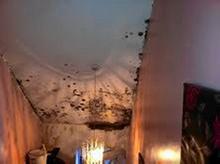 He said they had been stretched by emergency calls, and people had to take their turn.
But on learning there were two toddlers living there, he immediately made arrangements to visit their mother, and ordered repairs should start even though officials had told her damp and running water were normal.
"As far as I am concerned we have to operate in the real world," he said. "We are under a lot of pressure and have to prioritise," said Cllr Kite.
"If it is uninhabitable, we would have to move her and the children immediately."
Water was running inside the loft roof from a broken tile, and more was streaming down a temporary tarpaulin hung on the entrance wall when the Dartford Messenger called last week.
Ms Penfold, who is taking legal advice, said doctors at Darent Valley Hospital have told her mould spores are causing her children's asthma.
A former senior care worker, she said the mould first appeared in October and rapidly spread.
Gutters are blocked with shrubs, grass and moss and she called for help straight away, but orders for work were not placed until mid-December.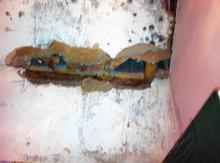 An electrician did call after Christmas but problems remained.
"When I asked one official if he would live in these conditions, he said of course he would," Ms Penfold said.
"I asked him if he would let his children live there – he said yes."
She finally got a council manager to look at her maisonette over the new year.
"He said they sent an inspector in November, but a repair order was not filed until weeks later," said Ms Penfold.
She added the manager was shocked when he saw blocked gutters, moss in the eaves, a shrub growing in a rear gutter, and sealants missing from around the front door.
He told her work would be carried out, but with no idea when, Ms Penfold contacted the Messenger in desperation.
Work is understood to have now begun on the home.