A Nigerian who tried to use a fake passport at a Dartford bank has been served his own official documents - deportation papers back to his home country.
Maidstone Crown Court was told that "the party was over" for Olaseni Atoyeakomolede, who will return to Nigeria once he has served his four month jail term.
The 64-year-old, of Pettacre Close, Thamesmead, came to the UK seven years ago but was an "over-stayer".
Edmund Fowler, defending, said Atoyeakomolede was "a most affable person" but acted "totally out of character" when he could not find work.
"He has enjoyed the British way of life but now the party is over and he is resigned to going back."
Atoyeakomolede admitted possessing a false passport and possessing a false Swedish nationality card with improper intention.
The court heard he presented the documents at the NatWest bank in the High Street on January 17 and tried to obtain a debit card and PIN to an existing account.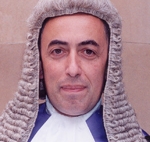 Staff were suspicious and called police.
He told officers he had gone to the bank on behalf of a British Nigerian called Tony who had given him the fake documents.
Passing sentence Judge Philip Statman said: "You were acting with somebody else at a time when you had lost your job and I am prepared to accept that but for those circumstances you wouldn't be facing this court today."