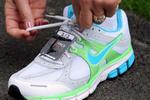 The Les Witton Dartford 10 will have to be rescheduled after being disrupted for a third successive year on Sunday.
Road closures and traffic management problems stopped the previous two 10-mile races, with last year's event taking place two months later than originally scheduled.
Snow wiped out Sunday's event and race director Dave Behagg is busy trying to reschedule it.
He said: "We can't say for certain that we are going to get a reasonable date so next year might be the only chance because we can't go trampling on other clubs' calendars and there are not lots of dates.
"One slot we did have was not possible because 40 of our members are racing in Essex that day and they are our marshals. We've got a date in mind but we need someone else to do us a favour and for a few things to happen."
Around 500 runners paid an advanced entry for the race and that was non-refundable but those who have paid can compete in a re-arranged event or the Les Witton Dartford 10 next year.
"We have collected everyone's money now and so we have to give them a race," said Mr Behagg.
Organisers are keen on a January date as it is ideal timing for runners preparing for the spring marathons and when families are less likely to be on holiday. But a date in November hasn't been ruled out.