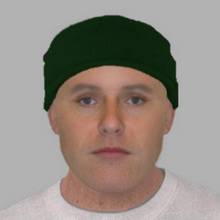 This efit image has been released of a man police want to speak to after a £25,000 delivery van was stolen in Swanley.
It comes after a driver delivering a parcel in St George's Road, Swanley on November 1 was approached by a man who stole his keys.
The suspect then drove off in the van with another man at around 3.30pm that day.
The Mercedes delivery van, worth around £25, 000, was stolen in the incident.
The first suspect is described as being white, aged between 30 and 33 and wearing a green or grey-coloured 'beanie' hat and a white jumper with horizontal stripes. The second man is also said to be white.
Anyone with information should contact police on 101 quoting reference YY/020165/12. Alternatively contact Kent CrimeStoppers on 0800 555111.