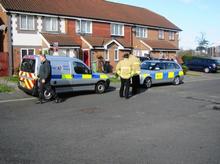 Police believe a fire at a family home which led to a man and two young children escaping on to a porch roof was started deliberately.
A neighbour then helped rescue the family from the roof of the two bedroom terraced house in McCudden Road, Dartford.
Police are now asking anyone who overheard an argument between two men at about 3am on Monday (March 5) to get in touch. The fire started shortly after that time.
Detective Superintendent Sam Hudson-Gool said: 'We would appeal to anybody who may have witnessed or heard an argument at an address in McCudden Road or who may have been involved in an argument at around that time to get in touch.'
Anyone with information can contact Kent Police on 101 or Kent Crimestoppers on 0800 555 111.