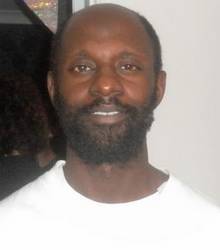 A second Dartford man has appeared in court charged with murder after a fatal shooting.
Unemployed Perry Sutton, 24, of Green Street Green Road, is also accused of possessing a pump-action gun.
The 24-year-old appeared before Bexley magistrates yesterday over the death of Marcus Innocent last November.
It comes after Daniel Burgess, 32, of Weardale Avenue, Dartford, was charged in December with murdering Mr Innocent.
Burgess was remanded in custody to appear at the Old Bailey on March 7.
Mr Innocent, 35, pictured right, died after being shot in the stomach in Woolwich, south London, on Monday, November 19.
The Metropolitan Police said two other men have been charged charged with murdering Mr Innocent.
Richard Brennan, 28, and 21-year-old Jack Brennan, both from Greenwich, are to appear in custody at Bromley Magistrates' Court this morning.