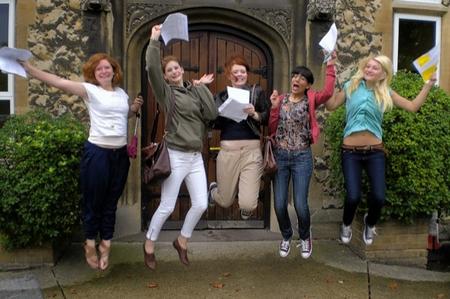 by Harry Low
The long wait was over for students across Dartford as they received their GCSE results on Thursday morning.
At Dartford Grammar School for Girls, students achieved a 95% overall GCSE pass rate with 99% gaining five grades A*-C including maths and English.
The school also saw more students than ever before achieve at least three A* or A grades with three gaining straight A*s and a further 18 gaining straight As.
Head teacher Jane Wheatley, who retires after today's results and 11 years in charge, said: "I'm very pleased – these are a very good set of results.
"It's a good time to go with a set of results like this."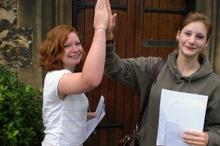 Megan Richold (left), 16, of Tower Road, Dartford, is returning to sixth form to study A-levels after landing eight A*s and two As. She said: "I'm in shock – I can't quite believe it yet.
"It's just lots of letters on a page – I think my mum is more emotional than me at the moment.
"It's hard to describe the feeling really. It's fantastic, beyond what I thought I could have done."
Sally Stoddart (right), 16, of Portman Close, Bexley, is one of the three pupils to gain straight A*s and will also return next month to start her A-levels.
She said: "I'm really, really happy. It feels like all the hard work has really paid off.
"I want to go to vet school so I needed all the A*s really."
At Dartford Technology College some students' GCSE results were among the best ever seen at the school.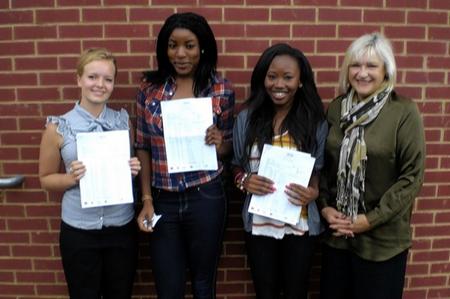 Head teacher Trish Burleigh retired the same day after 13 years in charge.
She said: "I'm absolutely delighted with the results. We do offer a traditional curriculum and in this school and we are very pleased with the results."
Star pupil Amber Beach, 16, of Hawley Road, Dartford, achieved 5 A*s, eight As and four Bs and will go on to take A-levels at the school.
She said: "My whole world has just been turned upside down - I'm speechless.
"My heart is racing – I do not know what to do. My mum is probably going to faint.
"I'll probably have a GCSE party to celebrate."
Gloria Abiola, 16, of Joyce Green Lane, Dartford, will be going to Dartford Grammar Schools for Boys to study the international baccalaureate after gaining one A*, seven As and two Bs.
She said: "I'm really happy as I did better than I thought I would. I like to thank the teachers here for their help and inspiration they have given to all of us.
"I was really nervous when I opened my results so I'm glad it's all over."
At Wilmington Grammar School for Boys 95% of students achieved the gold standard of five A*-C grades including maths and English.
More than a dozen students recorded 10 A*s or As while every year 10 student, except one, taking a maths or English GCSE a year early, passed.
Head teacher Andy Williamson said: "I'm really delighted with the results. Sometimes people forget about the personal gains in confidence that students achieve with results like these.
"Right now I feel that giving this generation as much confidence as possible about themselves and their future is what this country needs."
Erik Meliak, 16, of Parsons Lane, Wilmington, gained 12 A*s and three As.
He said: "I know people use the phrase gob smacked but I genuinely can't speak."
At Dartford Grammar School for Boys the results were better than ever before with every single year 11 student achieving at least five grades between A* and C including maths and English.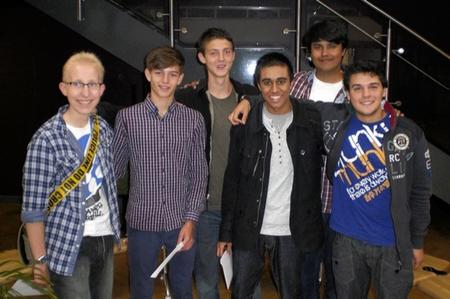 More than two thirds of students gained either an A or A* while 99.7% passed all subjects with a grade of C or above. Each student studies two languages to GCSE level.
Head teacher John Oakes said: "The GCSE results achieved this year by our hard-working year 11 students and their committed and enthusiastic teachers have been quite remarkable.
"When success in modern foreign languages nationally seems to be in free fall, the beacon of Dartford Grammar School as a centre of excellence for languages continues to be at the core of our national curriculum."
Thomas Cooke, 16, Princes, Dartford, achieved 10 A* and three A grades and will go on to the school's sixth form.
He said: "I'm elated. It felt like a massive pressure released off my shoulders because I was very nervous.
"I'm hoping to go on to do medicine," he added.
Max Renna, 16, gained seven A*s and seven As.
He said: "I'm ecstatic. It was a mix of emotions because you want to get the right results.
"I was taken aback and I had to take a second glance. I'm still trying to comprehend them."
Every student at Wilmington Grammar School for Girls gained at least five A* - C GCSEs.
In addition a quarter of year 11s gained at least eight A or A* grades.
Head teacher Maggie Bolton said: "I congratulate our students who have once again achieved so highly - many of our students performed superbly."
Rebecca Williams (centre right), 16, will return for sixth form after a haul of seven A*s, three As and a B.
She said: "I'm really pleased. I rang my mum who was screaming at work. I really worked hard for these results."
Laura Oduguwa (centre left), 16, gained A*s in all but two of her GCSEs.
She said: "I was relieved because I was really nervous when opening my results."
For the county picture, click here.