Sam Webb steps into the ring on Friday night aiming to win back the British light middleweight title he lost over a year and a half ago.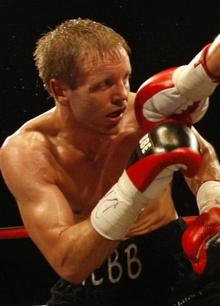 Webb (pictured), from Swanley, lost his crown to Prince Arron in May last year after suffering a perforated ear drum in the fifth round of what turned out to be an explosive contest.
A split decision win over hard-hitting Matthew Hall in April brought Webb back onto the scene and now he faces Brian Rose for the chance to get his title back.
Rose took the British title away from Arron last December and has won his last seven fights. He is fighting in his home town of Blackpool but it's not a problem for Webb.
"I'm back to fight for what I feel is rightfully mine," said Webb, who has lost just twice in 18 professional bouts.
"I'm 100% confident and I have always dreamt of winning it outright. If I win this and then defend it, it's mine.
"People say it's a big ask for me to go up there to Blackpool but I'm confident in my ability and that I can do a job on him."