A tattoo artist whose studio was targeted by thieves has come up with a novel reward.
Fox Canfield, 27, owns Kent Tattoos in High Street, Dartford, has offered a £100 tattoo voucher for anyone who knows the man to come forward.
His studio and Charis Continental Foods in Dartford High Street had their rear windows smashed in on Tuesday night.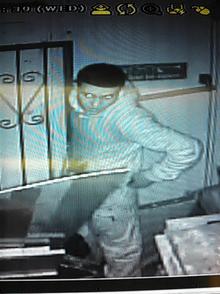 A small amount of cash and a laptop were reported stolen from Charis and the burglar was caught on the shop's CCTV.
It is also believed the offender got into the tattoo shop but left empty-handed.
Mr Canfield said: "It was just an incentive and I would hope that any information was given purely on a basis that people care for the community.
"Most people were supportive.
"Last year my car was parked around the back and that was broken into.
"Now the window has been smashed. I'm going to brick it up.
"We were lucky they didn't take anything from us, given the value of the equipment we use, but there was criminal damage to our shop and they stole from our neighbours."
If you have any information call 101.