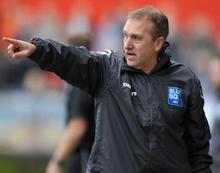 Dartford boss Tony Burman was delighted with his side's 6-1 win against Sutton on Tuesday.
It meant the Darts had made it seven wins in eight games, since their FA Trophy exit at Wealdstone last month, which Burman felt was their lowest point of the season.
He said: "It was a bad night, and the following morning I was going to get rid of all the players!
"But I got the negatives out, common sense came back, and I picked the same 11 players for the following game.
"I think there were a few people hoping we would slip up on Tuesday, but we played well. We knew we couldn't start the way we did against Havant."
Dartford head for Dorchester on Saturday, before facing Charlton in the semi-final of the Kent Senior Cup on Tuesday.