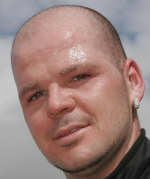 Tony Gilham was promoted onto the British Touring Car podium after a controversial post-race investigation at Donington Park on Sunday.
Mat Jackson - racing for Wrotham-based team Redstone Racing - had taken the win in the third and final race but was stripped of the honour after a technical infringement.
Jackson had earlier tasted victory in race one but a second success was ruled out after officials found that his Ford Focus ST had exceeded permitted turbo boost limits.
That promoted every driver up one place and Dartford's Gilham, who had taken fourth, was moved up another place to third.
It was an impressive finish to an ever-improving performance over the weekend during round two of the championship.
Independent driver Gilham, 32, now sits inside the top 10 driver standings. He had started the weekend with an 18th place qualifying position and after finishing race one in 14th, he improved to seventh in race two, before being rewarded with a place on the podium in the final race.
For Jackson and the Redstone team it was proved to be a mixed weekend, after starting so well with a win in the opener.
Jackson said: "It's a shame to have lost the win from race three as I feel I could have won it if the car wasn't faulty after our pace in races one and two.
"We've proven to ourselves this weekend we've got the pace in the car and the two great results in races one and two show that."