Drivers were hit by numerous delays this morning.
The A2 London-bound was heavily congested as far back as the M2 at Strood after a vehicle fire at the Black Prince interchange at Bexleyheath.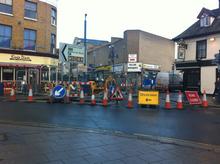 Drivers heading into Gravesend were hit by emergency roadworks at the junction of Queen Street, King Street and Parrock Street, which would have affected buses and deliveries getting into the heart of town.
Diversions were in place which caused delays around the one-way system.
A gas leak started overnight. A workman at the scene said the leak had been discovered, they had exposed the pipe and were expecting to be there for the rest of the day to fix it. He said workmen would be there for 24 hours if necessary.
In Singlewell Road, town-bound drivers also found emergency roadworks controlled by traffic lights delaying them.
For more traffic news, click on the traffic news tab.