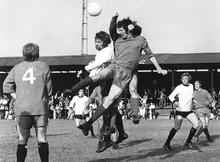 Tributes have been paid to former Dartford Football Club captain and legend Les Burns whose funeral was held this week.
Mr Burns, who died on December 19, played for the club from 1961 to 1975.
Steve Irving, vice chairman of Dartford FC said: "Les was a Dartford legend and I was extremely sad to hear of his passing.
"Dartford Football Club send condolences to his family and friends."
Mr Burns was born in Canning Town in 1943 and was signed for the Darts by player-manager Alf Ackerman in November 1961. He made his debut in 1963 against Oxford Utd Reserves in the Metropolitan League.
Mr Burns was soon appointed captain and led the Darts to Kent Senior Cup success, promotion to the Southern League Premier Division in 1969-70 and during the 1973-74 season, when Dartford won the Southern League Championship and went to Wembley in the final of the FA Trophy.
Before he left Dartford FC, Mr Burns had completed 642 starting appearances and scored 76 goals.
Mr Irving added: "He was the ever-present defensive lynchpin of that Wembley side and will be remembered by many Dartford supporters as an uncompromising, tough tackling defender and will be greatly missed."
The funeral took place on Monday jan 7 at Corbets Tey Crematorium in Upminster, Essex. Fans and those who knew him have paid tribute.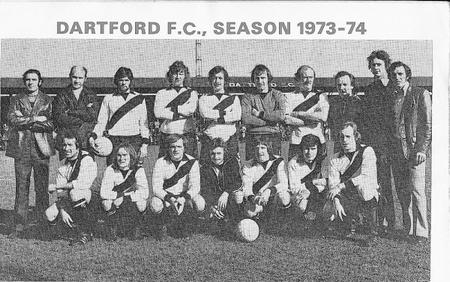 Ray Baker, 70, formerly of Mounts Road, Greenhithe, said: "I have supported Dartford FC since 1952 and have clear memories of Les Burns.
"He was a gentle giant, always calm and rarely fouled with malice. He truly was an inspiring footballer, captain, fans' favourite and a great servant of Dartford FC."
John Morton, a match delegate co-ordinator for the premier league played with Mr Burns at Dartford from 1969 to 1974.
He said: "I have very fond memories of Les. He was a big bloke but very nimble on his feet.
"In February 1970 we played Gravesend and Northfleet, alongside the current England manager Roy Hodgson, in the Kent Senior Cup at Watling Street. We won 4-2 and I think Les scored.
"The game was filmed by the BBC for a possible Thirty Minute Theatre play and we all had to return the following day for various re-enactments.
"At the end of filming all the players from both sides had to lie lifeless on the muddy pitch – I'm still not sure why. Unfortunately the play never materialised so we were clearly better footballers than actors.
"It will be 40 years since our Championship triumph and our trip to Wembley in the FA Trophy next season and I was hoping to organise a get-together of that side but now we'll be missing the skipper, Big Les."