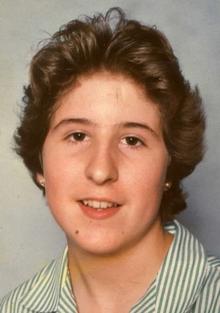 by Lizzie Massey
A candlelit walk in memory of murdered schoolgirl Claire Tiltman is being held to mark the 20th anniversary of her death.
Tilt, as she was known to her friends, was stabbed more than 40 times in an alleyway off London Road, Greenhithe, not far from her home in Woodward Terrace. It was just four days after her 16th birthday in 1993.
On January 18, the 20th anniversary, friends will re-trace her final steps as she walked towards a friend's house.
The walk will start at 6pm opposite The Bull at Horns Cross and proceed to the memorial site on London Road, close to where Claire died.
Her friends are keen to raise awareness of her murder, which remains unsolved, and are encouraging as many people as possible to take part, and bring either a candle or a torch with them.
Claire's mother Linda died from cancer in 2008 and her father Cliff passed away in September last year without seeing justice done - but the pair never gave up hope that they would find out what happened to their daughter.
Lisa Gribbin, 35, was Claire's best friend from school. She said: "Now they're gone it's really up to us, her friends, to keep her memory alive and keep up the fight to find her killer.
"A lot can change in 20 years and somebody that may have had a reason to be afraid and not speak out at the time may not have that reason any more.
"That's what keeps us going, and that's what gives us hope."