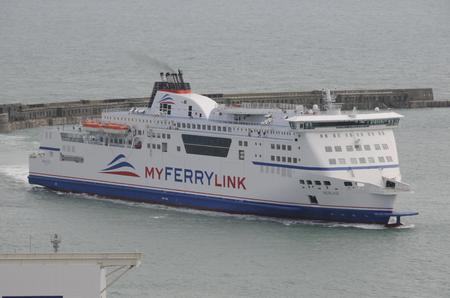 The cross-Channel ferry operator which took over SeaFrance's staff and ships has been given almost 10 million Euro by a French court.
A spokesman for MyFerryLink said the settlement between the company and the SeaFrance liquidator largely removed the uncertainty surrounding the funding of the employee partnership.
At a hearing of the Tribunal de Commerce in Paris, agreement was reached for the payment of 25,000 Euro for each former SeaFrance employee in France who joined the new MyFerryLink enterprise – a sum of almost 10 million Euro.
In total, 371 qualifying staff joined the 'SCOP' partnership which began its services on August 20, after contracts were agreed with Eurotunnel which bought three former SeaFrance ships and other assets.
The company says the launch of the SCOP has seen a transformation in working practices, reliability and customer service which has resulted in MyFerryLink achievingmore than 4% of the cross-Channel market in three months.
By the end of December, MyFerryLink had carried more than 100,000 passengers and 12,000 trucks.
UK managing director Robin Wilkins said he was encouraged by the company's progress "in a difficult market".
"We have just received an interim payment of 7 million Euros and the balance will be paid shortly," he said. "This is a very welcome cash injection for us and we are looking forward to consolidating our position on the channel.
"We have an extremely motivated team of enthusiastic staff who are very much enjoying being in the SCOP partnership and this is reflected in the huge number of positive comments we are receiving from our customers."
MyFerryLink operates up to 16 tourism crossings a day between Dover and Calais using the ferries Rodin and Berlioz.