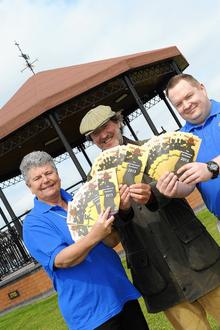 Free concerts return to Deal Memorial Bandstand on Sunday, May 5, and a new-look brochure is out now detailing all performances throughout the season.
More than 20 bands are booked to play and the two big events in the calendar will be the annual visit by the Band of HM Royal Marines Portsmouth (Royal Band) and the return of Band of the Brigade of Gurkhas.
The first concert starts on the bandstand on Walmer Green at 2.30pm on May 5 with Betteshanger Welfare Brass Band, to be sponsored by brothers Clifford and Jim Davies and family, from Mill Hill, Deal.
Bandstand trust publicity officer Bill Butler said: "With summer now - at long last - on its way the brass band will be performing the traditional opening concert of the new season.
"Trust members met at the bandstand this week to make sure that all will be ready for the season and programmes are now available from the East Kent Mercury in Queen Street, the visitor information office and many other outlets in the town.
"We have Kent Police Band, the Band of the Brigade of Gurkhas on September 8 and of course the Band of Her Majesty's Royal Marines, Portsmouth (The Royal Band) who will be visiting on Sunday, July 14, for this year's annual rededication concert."
* For more information visit www.dealbandstand.org