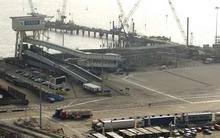 Five geese and four rheas sent Port of Dover police scanning their reference books.
"Despite our officers' extensive knowledge in this area, even they had to consult the reference manuals when a Lithuanian man was stopped as he attempted the animals, said chief officer Steve Masters.
"Officers eventually managed to identify which group of animal the rhea belonged to and more importantly established that a Health Certificate was required if they were being exported for breeding or food.
"The birds were returned to their farm in the Home Counties as an alternative to prosecution."
Officers have also recovered more stolen vehicles at the docks.
Three men were arrested when a tracker device fitted to a vehicle activated and indicated it was in the port. The vehicle had false index plates and while officers were dealing with it they noticed some unnatural attention from people in a following vehicle.
Checks were conducted and the second vehicle was also found to have been stolen from London.
More stories from the port, including a visit by the Shipping Minister Stephen Hammond, in this week's Dover Mercury.