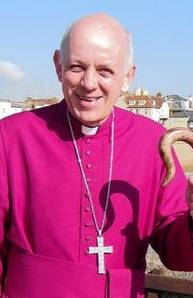 by Graham Tutthill gtutthill@thekmgroup.co.uk
The Bishop of Dover says the door is still open to women serving as bishops in the Church of England.
The Rt Rev Trevor Wilmott, who publicly supports women bishops, made his comments in a letter written to the clergy and lay people of the Diocese of Canterbury following the vote at the General Synod on Tuesday.
"The vote was not a 'no' to women bishops, but it was a 'no' to the proposed legislation as it stands," he said.
"I believe that the door to women being bishops is open and cannot now be shut. The clear majority of the Church of England demands it, the people of this country expect it, and I believe that the Holy Spirit yearns for it. There will be women bishops in the Church of England and I hope and pray that the wait will not be a long one."
In his letter, Bishop Trevor affirms the place of women priests in the Diocese saying they are 'valued and appreciated widely'. He also reassures those people and priests with opposing views saying: "As Bishop, I have consistently assured those who find the episcopal or priestly ministry of women difficult that there will be a place for them, which respects their convictions."
The House of Bishops meets in two weeks' time to consider the consequences of the vote.