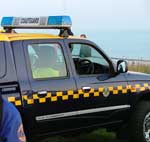 A body recovered from the the sea off Dover on Christmas Eve has been identified as that of Malcolm Levesconte, who was reported missing from a pub in Wiltshire two weeks earlier.
Detectives had been investigating Mr Levesconte's disappearance from the Royal Oak public house in Shrewton, Wiltshire, since December 9 when he was last seen alive. It was thought he had taken a ferry to France, but never arrived.
His body was found four miles off Dover after Dover Coastguard was alerted following a report that the body had been sighted from a cross-Channel ferry.
Dover Lifeboat was called out, and the body was brought ashore at the lifeboat station.
Police say they are investigating a theft from the Christmas savings club at Mr Levesconte's pub.