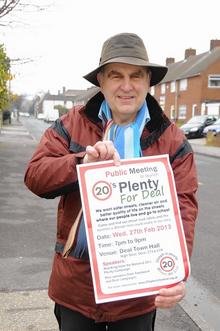 A campaign for Deal to have a 20mph speed limit has been launched.
Posters and leaflets are making their way through letter boxes and into shops, all bearing the same motoring message: 20's Plenty.
The campaign has been launched by the group of the same name, asking Deal's drivers to consider lowering their speed to cut down on accidents and make the area a nicer place to live.
Alan Gleave, who is fronting the push, said the issue of safety is the most important.
Mr Gleave, who has witnessed a tragic accident in the past, said: "If you are driving over 20mph, a child will be dead if you hit him or her."
The group is holding an open meeting on Wednesday, February 27, at 7pm, at Deal Town Hall, where Rod King from the National 20's Plenty Campaign will talk about the benefits of cutting speed limits.
They also have an online petition on their website.
Mr Gleave said: "Deal is facing increasing traffic due to new housing, a lack of quality public transport and culture of driving children to school because our roads are perceived as being too dangerous to walk.
"more than half of our road deaths and serious injuries happen nationally on roads with a 30mph speed limit" – alan gleave from 20's plenty
"More than half of our road deaths and serious injuries nationally happen on roads with a 30mph speed limit.
"We believe Deal should join the hundreds of other communities saying 20's plenty for where we live."
He added that Deal would also be a much nicer place to live if traffic went at slower speeds, adding: "It is one of the most frequent concerns councillors receive from residents.
"It would be better if police turned up and enforced it.
"There are also many narrow streets in Deal."
Similar campaigns have been launched in Sandwich, where there is a designated 20mph limit circling the town centre from New Street.
The posters have made their way into shops and leaflets through doors of homes.
An online petition has also been created for people who decide they want to put their names to a 20mph town.
The group's website and petition can be found at www.20splentyfordeal.org.uk and they can be emailed at deal@20splentyforus.org.uk.