The driver at the centre of an alleged armed carjacking has spoken of the moment he decided to tackle the assailant.
Sam Coleman, 22, was on his way to work when a man pointed a gun at him and ordered him out of his car in Dover.
But after initially complying with the man's request, Mr Coleman disarmed him and pinned him down until police arrived.
He was driving down Maison Dieu Road and had stopped at the traffic lights at the junction of Eastbrook Place and Castle Street (see picture below by Maxine Dournish).
"I looked at my watch and saw it was 7.25am, and I had to be at work at 7.30am," he said.
"The lights were just changing to green when I saw a man walking around the back of my car from the passenger side.
"Then he appeared next to me at the driver's door. He pulled the car door open, pointed a gun at my head and told me to get out.
He was shouting and swearing and I was scared, so I got out of the car. I expected him to drive away immediately, but he didn't.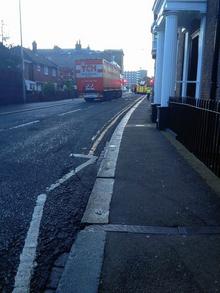 "I thought about what to do – it was probably only five seconds or so, but it seemed a lot longer.
"I opened the car door again, jumped on him and hit him in the face. I managed to grab the gun and throw it out. Then I just pinned him down until the police arrived at 7.40am.
"I was shouting and calling for help. My cousin happened to be in the car park at Dover Leisure Centre and said he could hear the shouting, but obviously didn't know what it was.
"The driver of a van who had been behind me drove around and in front of the car to see what was happening, and when he realised what it was he came to help."
Someone made a 999 call reporting a road accident, and the fire service were first on the scene.
"They were really good," said Mr Coleman. "They gave me a lot of moral support and made sure I was all right."
On reflection, Mr Coleman said he probably made a mistake doing what he did.
"I didn't think about what could have happened, and I didn't think about my girlfriend or our seven-month-old son," he said. "I wouldn't do it again."
A man was arrested and taken to Canterbury Police Station for questioning.
The section of Maison Dieu Road between Castle Street and Pencester Road was closed for several hours while police carried out their investigation.