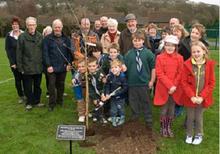 An English oak tree has been planted in River Recreation Ground to mark the Queen's Diamond Jubilee.
It was provided through funds raised by 1st River Brownies, 2nd River Brownies, Methodist children's groups, Parish Church children's groups, Abbey Preschool, River Preschool Playgroup, River Rainbows, River Cubs and River Guides.
Representatives from the organisations helped plant the tree which they hope will become a mighty oak.